Introduction
Foodservice equipment (FSE) are equipment used for handling or processing food right from peeling to grinding, cooling to roasting, among others, for commercial purpose.  FSE find widest application in full service restaurants, followed by quick service restaurants. Foodservice equipment has gained wide acceptance among various food outlets in developed countries and adoption is increasing at a significant rate in developing regions.
Market Value Forecast
In 2015, the market of food service equipment market was valued at US$ 27.6 Bn and expected to expand at a CAGR of 5.2% during the forecast period (2016–2024) and is expected to reach US$ 47.8 Bn by 2024.
Market Segmentation:
The global foodservice equipment market is segmented on the basis of product type into food and drink preparation equipment, cooking equipment, heating and holding equipment, refrigerator & chiller, baking equipment, merchandisers, dishwasher and other food & beverage equipment. In 2015, the food & drink preparation equipment and cooking equipment segments cumulatively generated sales revenue of US$ 13.72 Bn. Foodservice equipment market is segmented on the basis of end user into full service restaurant, quick service restaurant, catering, hotels and club restaurants.
Market Dynamics
Foodservice equipment industry is witnessing surge in market consolidation over the last few years. Expansion of product portfolio to meet diverse end-use requirement and rising demand for customized foodservice equipment are recent trends in global foodservice equipment market. Change in eating habits of people, with rise in preference for quick service restaurants have contributed to rising demand for food service equipment. Moreover, energy-efficient food service equipment is poised to gain traction among end user.
Request for sample report: http://www.futuremarketinsights.com/reports/sample/rep-gb-1578
Regional Outlook:
North America and Europe collectively account for over half of total revenue generated from sales of foodservice equipment. North America is expected to remain the largest market for FSE and anticipated to expand at a CAGR of 4.1% over the forecast period (2016–2024). Europe and Asia Pacific are expected to emerge as the other major markets for foodservice equipment.
Figure: Global Foodservice Equipment Market Value Share (%), By End Use, 2016 & 2024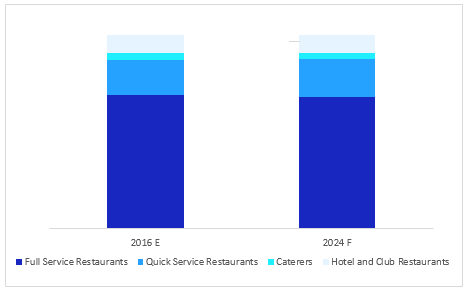 Source: FMI, 2016
Send an Enquiry: http://www.futuremarketinsights.com/askus/rep-gb-1578
Key Player:
Key player in the global food service equipment market include AB Electrolux , Ali S.p.A, Hobart Corporation, Manitowac Company Inc., Fujimak Corporation, Hoshizaki Electric Co.,Ltd., Rational AG, Dover Corporation, Tupperware Brands Corporation, Duke Manufacturing Co.Inc., Libbey Inc., Vollrath Co., Middleby Corporation, Cambro Manufacturing Company, Inc. Development of energy efficient customized new products and focus on highly growing foodservice in developing countries are the key strategic growth policies of the leading global players of foodservice equipment.