Market Forecast by Vendor Type (Aftermarket and OEM), End Users (Cold Chain Storage, Tourism, Retail, Courier, Pharma and Others), Regions (Northern, Southern, Western and Eastern), Applications (Vehicle Tracking & Fleet Management and Others) and Competitive Landscape
---
Report Description
In last few years, commercial vehicle telematics market has registered significant momentum, thanks to growing awareness, need for fleet management, adoption in cold chain & logistics segments and penetration in OEM market.
In India's commercial vehicle telematics market, Heavy-Commercial Vehicles (HCVs) accounted for majority of the market share; however, Medium Commercial Vehicles (MCVs) segment is poised to register significant growth over the next six years.
According to 6Wresearch, India Commercial Vehicles Telematics Market installed base is projected to reach 1.4 million by 2022. India commercial vehicles telematics market is exhibiting growth as the freight companies are becoming more cautious about their vehicle fuel consumption, on time delivery, repair cost and on road safety. Moreover, commercial vehicle OEMs are collaborating with telematics players to develop in-built telematics system.
In addition, prices are declining year-on-year due to increasing competition and adoption in the market. Amongst all end users, cold chain segment has acquired highest share of the overall market in 2015.
The report thoroughly covers telematics market by vendor type, installed base, sectors, applications and regions. The report provides an unbiased and detailed analysis of the on-going trends, opportunities/high growth areas, market drivers which would help the stakeholders to decide and align their market strategies according to the current and future market dynamics.
Key Highlights of the Report
• Market Size & Forecast of Global Automotive Telematics Market until 2022
• Market Size & Forecast of Global Commercial Vehicle Telematics Market until 2022
• Historical data of India Commercial Vehicles Telematics Market for the Period 2012-2015
• Market Size & Forecast of India Commercial Vehicles Telematics Market until 2022
• Historical data of India Commercial Vehicles Telematics Market, By Vendor Type for the Period 2012-2015
• Market Size & Forecast of India Commercial Vehicles Telematics Market, By Vendor Type until 2022
• Historical data of India Commercial Vehicles Telematics Application Market for the Period 2012-2015
• Market Size & Forecast of India Commercial Vehicles Telematics Application Market until 2022
• Historical data of India Commercial Vehicles Telematics Market Installed Base for the Period 2012-2015
• Market Size & Forecast of India Commercial Vehicles Telematics Market Installed Base until 2022
• Market Share of India Commercial Vehicles Telematics Regional Market
• Market Drivers and Restraints
• Players Market Share
• Company Profiles
• Key Strategic Pointers
Markets Covered
The report provides the detailed analysis of the following market segments:
• Vendor Types:
o Aftermarket
o OEM
• End Users:
o Cold Chain Storage
o Tourism
o Retail
o Courier
o Pharma
o Others
• Regions:
o Northern
o Southern
o Western
o Eastern
• Applications:
o Vehicle Tracking & Fleet Management
o Others
---
Table of Contents
1 Executive Summary
2 Introduction
2.1 Key Highlights of the Report
2.2 Report Description
2.3 Market Scope & Segmentation
2.4 Assumptions & Methodology
3 Global Automotive Telematics Market Overview
3.1 Global Automotive Telematics Market Revenues (2012-2022F)
3.2 Global Automotive Telematics Market Share, By Vehicle Type (2015 & 2022F)
4 Global Commercial Vehicle Telematics Market Overview
4.1 Global Commercial Vehicle Telematics Market Segment Cost Distribution
4.2 Global Commercial Vehicle Telematics Market Revenues (2012-2022F)
4.3 Global Commercial Vehicle Telematics Market Share, By Region (2015)
5 India Commercial Vehicles Telematics Market Overview
5.1 India Commercial Vehicles Telematics Market– Telematics Market Roadmap
5.2 India Commercial Vehicles Telematics Market– Telematics Application Areas
5.3 India Commercial Vehicles Telematics Market– Industry Life Cycle
5.4 India Commercial Vehicles Telematics Market– Value Chain Analysis
5.5 India Commercial Vehicles Telematics Market– Porter's Five Forces Model
5.6 India Commercial Vehicles Telematics Market– Telematics Product and Service Price Range
5.7 India Commercial Vehicles Telematics Market– Telematics Solutions Usage
5.8 India Commercial Vehicles Telematics Market– Overview of Fleet Management Using Telematics
5.9 India Commercial Vehicles Telematics Market Revenues (2012-2022F)
5.9.1 India Commercial Vehicles Telematics Market Revenue Share, By Applications (2015 & 2022F)
5.9.2 India Commercial Vehicles Telematics Market Revenues, By Applications (2012-2022F)
5.9.3 India Commercial Vehicles Telematics Market Revenue Share, By Vendor Type (2015 & 2022F)
5.9.4 India Commercial Vehicles Telematics Market Revenues, By Vendor Type (2012-2022F)
5.10 India Commercial Vehicles Telematics Market Volume (2012-2022F)
5.10.1 India Commercial Vehicles Telematics Market Volume Share, By Applications (2015 & 2022F)
5.10.2 India Commercial Vehicles Telematics Market Volume, By Applications (2012-2022F)
5.10.3 India Commercial Vehicles Telematics Market Volume Share, By Vendor Type (2015 & 2022F)
5.10.4 India Commercial Vehicles Telematics Market Volume, By Vendor Type (2012-2022F)
6 India Commercial Vehicles Telematics Market Adoption, By End Users
7 India Commercial Vehicles Telematics Market, By Commercial Vehicle Type
8 India Commercial Vehicles Telematics Market, By Installed Base
8.1 India Commercial Vehicles Telematics Installed Base Market Volume (2012-2022F)
8.2 India Commercial Vehicles Telematics Installed Base Market Volume, By Vendor Type (2012-2022F)
9 India Commercial Vehicles Telematics Market, By Region
10 India Commercial Vehicles Telematics Market Dynamics
10.1 Impact Analysis
10.2 Market Drivers
10.3 Market Restraints
11 India Commercial Vehicles Telematics Market Trends
11.1 Market Trends Impact Analysis
11.2 Market Trends & Opportunities
12 India Commercial Vehicles Telematics Market– Purchase Criteria
13 India Commercial Vehicles Telematics Market– Competitive Landscape
13.1 Company Landscape
13.2 Players Market Share
14 India Commercial Vehicles Telematics Market– Company Profiles
14.1 Arya Omnitalk Wireless Solutions Pvt. Ltd.
14.2 CMC Ltd.
14.3 Dhanus Technologies Ltd.
14.4 EFKON India Pvt. Ltd.
14.5 TATA Motors Limited
14.6 Trimble Navigation Limited
15 Key Strategic Note
16 Disclaimer
List of Figures
Figure 1 Global Automotive Telematics Market Revenue, 2012-2022F ($ Billion)
Figure 2 Global Automotive Telematics Market Revenue Share, By Vehicle Type (2015)
Figure 3 Global Automotive Telematics Market Revenue Share, By Vehicle Type (2022F)
Figure 4 Global Commercial Vehicle Telematics Market Revenue, 2012-2022F ($ Billion)
Figure 5 Global Commercial Vehicle Market Revenue Share, By Region (2015)
Figure 6 India Commercial Vehicles Telematics Market– Industry Life Cycle
Figure 7 India Commercial Vehicles Telematics Market Breakdown, By Hardware, Service and Installation Cost (2015)
Figure 8 India Commercial Vehicles Telematics Market Breakdown, By Hardware, Service and Installation Cost (2022F)
Figure 9 India Commercial Vehicles Telematics Product and Service Range
Figure 10 India Commercial Vehicles Telematics Solutions Usage (2015)
Figure 11 Fleet Operations Cost Distribution (2015)
Figure 12 India Commercial Vehicles Telematics Market Revenues, 2012-2022F ($ Million)
Figure 13 Number of Vehicle Thefts in India, 2009-2015E (In Thousand)
Figure 14 Number of Road Accidents in India, 2009-2015 (In Thousand)
Figure 15 India Commercial Vehicles Telematics Market Revenue Share, By Applications (2015)
Figure 16 India Commercial Vehicles Telematics Market Revenue Share, By Applications (2022F)
Figure 17 India Commercial Vehicles Telematics Market Revenue Growth, By Applications, 2012-2022F (In %)
Figure 18 India Commercial Vehicles Telematics Market Revenue Share, By Vendor Type (2015)
Figure 19 India Commercial Vehicles Telematics Market Revenue Share, By Vendor Type (2022F)
Figure 20 India Commercial Vehicles Telematics Market Revenue Growth, By Vendor Type, 2012-2022F (In %)
Figure 21 India Commercial Vehicles Telematics Market Volume, 2012-2022F (In Thousand Units)
Figure 22 India Commercial Vehicles Telematics Market Price Trend, 2012-2022F ($ Per Unit – ASP)
Figure 23 India Smartphone Market Unit Shipments, 2014-2022F (In Million Units)
Figure 24 India Infotainment Market Revenues. 2014-2022F ($ Million)
Figure 25 India Commercial Vehicles Telematics Market Volume Share, By Applications (2015)
Figure 26 India Commercial Vehicles Telematics Market Volume Share, By Applications (2022F)
Figure 27 India Commercial Vehicles Telematics Market Volume Growth, By Applications, 2012-2022F (In %)
Figure 28 India Commercial Vehicles Telematics Market Volume Share, By Vendor Type (2015)
Figure 29 India Commercial Vehicles Telematics Market Volume Share, By Vendor Type (2022F)
Figure 30 India Commercial Vehicles Telematics Market Volume Growth, By Vendor Type, 2012-2022F (In %)
Figure 31 India Commercial Vehicles Telematics Market Adoption, By Sector (2015)
Figure 32 India Commercial Vehicles Telematics Market Adoption, By Sector (2015)
Figure 33 Commercial Vehicle Sales in India, 2012-2022F (Thousand Units)
Figure 34 Installed Base Telematics in India, 2012-2022F (Thousand Units)
Figure 35 On-Road Commercial Vehicles in India, 2014-2022F (Million Units)
Figure 36 Commercial Vehicle Telematics Market Penetration, 2014-2022F (In %)
Figure 37 India Commercial Vehicles Telematics Installed Base Market Volume, 2012-2022F (In Thousand Units)
Figure 38 India Commercial Vehicles Telematics Installed Base Market
Volume Growth, By Vendor Type, 2012-2022F (In %)
Figure 39 India Commercial Vehicles Telematics Market Revenue Share, By Region (2015)
Figure 40 India Commercial Vehicles Telematics Market Trends Impact Analysis
Figure 41 India Commercial Vehicles Telematics Market Revenues, By Company, 2015 ($ Million)
Figure 42 India Commercial Vehicles Telematics Market Revenue Share, By Company (2015)
Figure 43 Arya Omnitalk Wireless Solutions Pvt. Ltd. Revenue Share, By Segments (2015)
Figure 44 Trimble Navigation Limited Revenue Share, By Segments (2015)
List of Tables
Table 1 India Commercial Vehicles Telematics Market Revenues, By Applications, 2012-2022F ($ Million)
Table 2 India Commercial Vehicles Telematics Market Revenues, By Vendor Type, 2012-2022F ($ Million)
Table 3 India Commercial Vehicles Telematics Market Volume, By Applications, 2012-2022F (In Thousand Units)
Table 4 India Commercial Vehicles Telematics Market Volume, By Vendor Type, 2012-2022F (In Thousand Units)
Table 5 India Commercial Vehicles Telematics Installed Base Market Volume, By Vendor Type, 2012-2022F (In Thousand Units)
Table 6 India Commercial Vehicles Telematics Market– Purchase Criteria
Table 7 Financial Statement of Arya Omnitalk Wireless Solutions Pvt. Ltd., 2011-2015 (In $ Million)
Table 8 Financial Statement of Trimble Navigation Limited, 2011-2015 (In $ Million)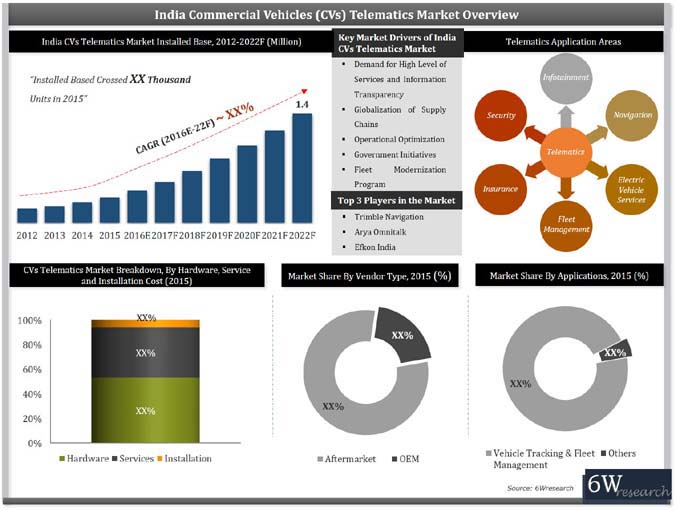 Source Link: http://www.6wresearch.com/market-reports/india-commercial-vehicles-telematics-hcv-mcv-lcv-market-2016-2022-industry-analysis-report-size-forecasts-growth-opportunity-share-type-trends-players-fleet-management-system.html
For Further details, please contact:
Email Us: sales@6wresearch.com
Call Now: +91-11-430-24-305